How To Find Out Genuineness Of The Magnesium Carbonate?
Dissolve 2 gms material in dilute sulfuric acid which forms CLEAN & CLEAR solution without having BLACK/BROWN COLOURATION and any undissolved particles.
This infers the GENUINENESS OF OUR MATERIAL.
Where as in spurious material you will find Blackish/Brown Dense Colouration and undissolved particles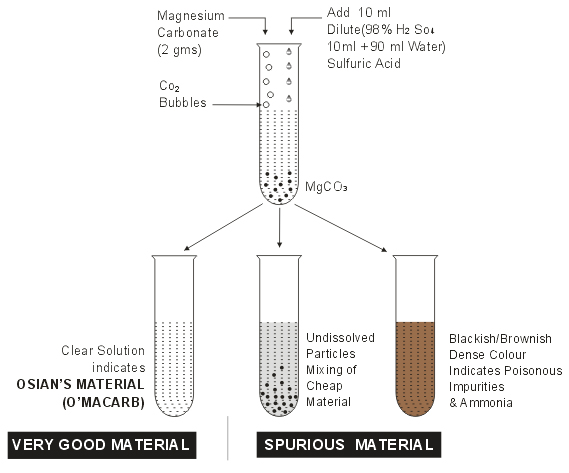 Beware Of Spurious Material
Here by we CAUTION users of Magnesium Carbonate Industries that many companies have started manufacturing of SPURIOUS MAGNESIUM CARBONATE - using waste raw materials.
In view of above, we the OSIAN GROUP OF COMPANIES - who believes in THE BEST QUALITY AND SERVICES - wishes to bring to the notice of all best quality Magnesium Carbonate user industries that, before you use READ AND FOLLOW instructions given in Comparative Observations Testing to check the quality of Magnesium Carbonate purchased by you.