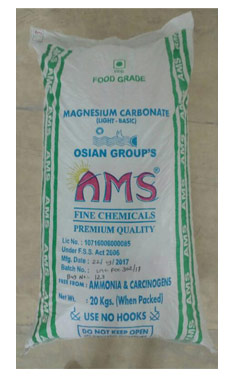 Description:
Appearance: Fine powder
Color: White
Taste: Tasteless
Odor: Odorless
Toxicity: Non- Hazardous
Packing & Storage:
Packing Material: Laminated HDPE Bag with inner LDPE liner
Packing Size: 20 Kg Standard
Storage conditions: Keep container tightly closed and store in dry place.
Application In Food Industry:
Anti-caking agent in all types of ready mix powder food items.
Anti-sticking agent in Candies & Confectioneries.
Free flowing agent in Edible Salts since ancient times.
Processed fruits & vegetables, processed meat & seafood, Soups & Sauces, Condiments, Beverages & Carbonated drinks and in all types of Fryums.
De-molding agent in biscuits.
Flour treatment agent.
In all fortified food products such as salt, flours, breads & cereals.
Acidity regulator in various food products.
Magnesium Supplement in nutritional & energy drinks.
Anti-caking agent in instant coffee powders, etc.
Please Note:-
FOR,
Logistic & Transport Details
Specification Sheet / Technical Data Sheet
Safety Data Sheet
Quote & Sample Request
Any Other Details
***EMAIL US ON (export@osianmcpl.com) OR YOU MAY ALSO REQUEST THROUGH (ONLINE CHAT), OUR REPRESENTATIVE IS ONLINE FOR YOUR QUICK ASSISTANCE***