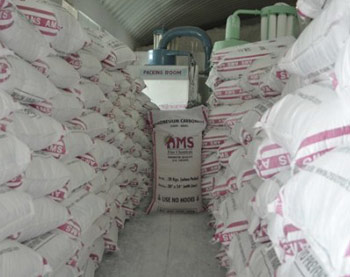 Description:
Appearance: Very fine powder
Color: White
Odor: Odorless
Toxicity: Non- Hazardous
Packing & Storage:
Packing Material: Laminated HDPE Bag with inner LDPE liner
Packing Size: 40 Kg Standard
Storage conditions: Keep container tightly closed and store in dry place.
Industrial Application:
Used in paper pulp bleaching.
For treatment of industrial and municipal wastewater.
In road and building constructions.
Cleaning agent in leather industry.
In production of sugar from both sugarcane and sugar beet to remove dirt puma and pH correction.
Used in manufacturing of cement paint and as filler.
In agriculture for calcium supplement in fertilizers.
Please Note:-
FOR,
Logistic & Transport Details
Specification Sheet / Technical Data Sheet
Safety Data Sheet
Quote & Sample Request
Any Other Details
***EMAIL US ON (export@osianmcpl.com) OR YOU MAY ALSO REQUEST THROUGH (ONLINE CHAT), OUR REPRESENTATIVE IS ONLINE FOR YOUR QUICK ASSISTANCE***